Technozan Staff
March 10, 2012
Sky History:
SkyHistory is a Free Chat Save Client with many Features
How to:
Step 1 Download SkyHistory
Next up, launch the setup file and follow the steps suggested by the SkyHistory Setup Wizard: accept the license agreement terms and conditions, select the location for the installation file and start menu folder and check the additional icons, if necessary:
The SkyHistory application will start automatically after the installation procedure is over.
The app will start searching for Skype to attach (please wait as it can take several seconds).
Once SkyHistory is attached to Skype, will see application icon in the tray menu 

.
The application is ready for configuring and use after the SkyHistory setup procedure is completed.
By default the database with the chat history and the configuration files are stored in the current system and Skype user's "Application Data" folder ("%USERPROFILE%Application DataSkype%SKYPEACCOUNT%SkyHistory").
After you have installed and launched SkyHistory, you will see the access Skype dialogue:

Click Allow access to set the rule for SkyHistory.
If you accidentally clicked Deny access, the situation can be easily improved by moving to Skype Tools -> Options -> Advanced -> Manage other programs' access to Skype and allow SkyHistory access to Skype. Follow the steps illustrated below:
Hit the Manage other programs' access to Skype: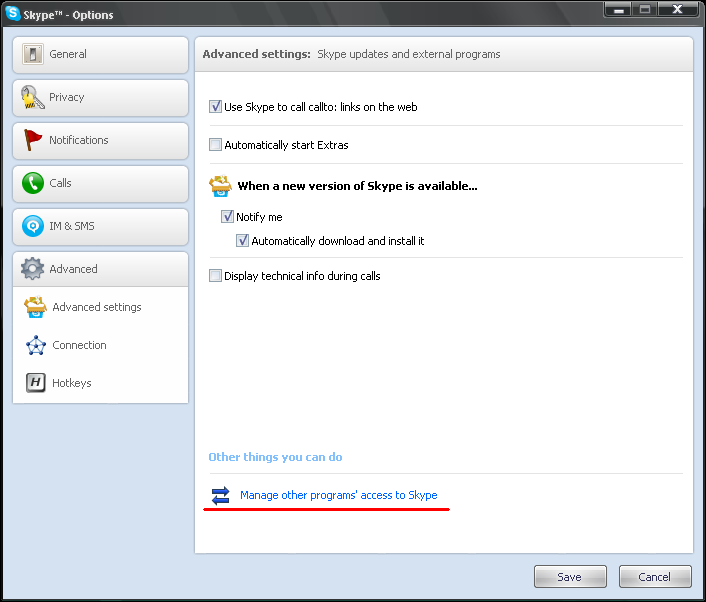 You will see the Manage API Access Control screen showing the status of the SkyHistory app; click Change.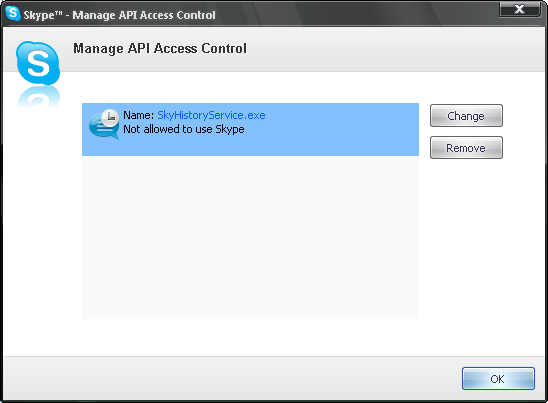 Mark Allow this program to use Skype and press OK: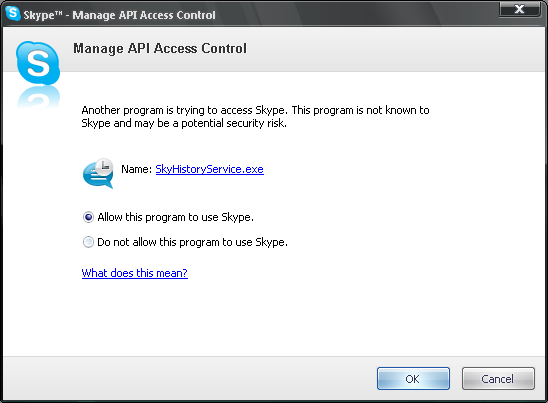 Most significant SkyHistory features:
Tracking chat history using the Skype SDK regardless of the global settings;
Users can define Skype contacts whose history should be tracked or ignored at any given moment;
Easy and intuitive search for messages based on

most recent chats history;
multiple users selection;
common Skype user groups;
built-in events calendar;
quick text fragments lookup system;
filtering by text fragments system;

Possibility to mark important messages and add them to bookmarks;
Possibility to delete a message or the whole chat session from the database;
Users can change the location of the history database and user settings to ensure the data safety or to share them with other Skype users;
Possibility to import the existing database;
Easily customizable user interface;
Possibility to customize the history layout including font family, font size and color individually for each message type and message element;
Possibility to view history in the context menu upon right-clicking on a contact on your Skype contact list.
Requirements:
Skype 3.0.0.190 or higher;
Windows® 2000, XP, Vista or 7;
At least a 1GHz processor, 256 MB RAM;
20MB of free disk space at system drive.
Hope You Like It.